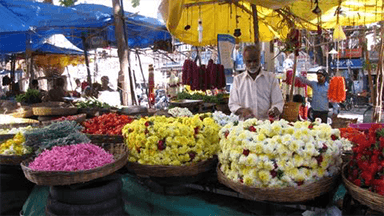 The flower bazaar in Basavangudi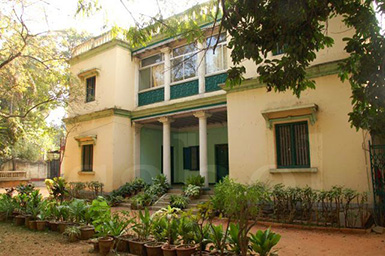 A traditional bungalow in Basavangudi

 The entrance to Ganjam Mantapa
A touch of tradition in the heart of Bangalore city
Ganjam Mantapa was once the ancestral home of the city's well-known diamond jewellers. And now, award winning architect Renu Mistry has redesigned it into a charming intimate place.
It is built in a traditional South Indian design, with sloping tiled roofs, a garden courtyard with multi-level water body and plenty of light and ventilation. Sandalwood hued textured walls decorated with attractive kolam (Rangoli) and toran patterns with dark red tiles reminiscent of red-oxide floors of the bygone era give the space a warm, ethnic look.
This charming space in the heart of South Bangalore, on Bull Temple Road near Ramakrishna Ashram in Basavanagudi, is the perfect location for weddings, social functions and cultural events.
Basavanagudi - Cultural Hub
Basavanagudi is one of Bangalore's oldest areas. With wide, tree lined avenues, quaint by lanes, and dotted with traditional houses, it is a classic example of a place that is still steeped in its own past.
The world's largest monolithic bull can be found here, in the Bull Temple that sees thousands of devotees passing through every day. The cave temple of Gavi Gangadeshwara offers up mythical and mysterious adventures and the Gandhi Bazaar promises visitors wonders unlike any other that can be found across the city. Add to that the traditional cuisine you can enjoy at restaurants like Vidyarthi Bhavan, music festivals, Kadalakai Parishe (Annual Groundnut Festival) and there is little wonder that this place is often referred to as the cultural hub of the city.